Details

Written by

Cloud Control Panel

Category: Uncategorised
Hits: 2283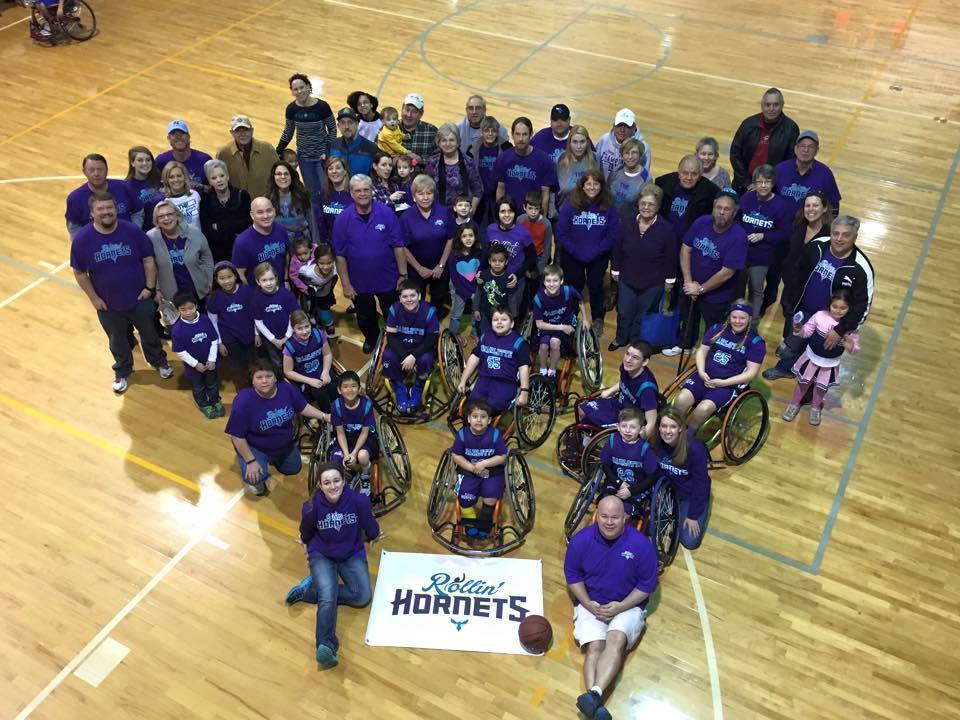 2017-2018  Junior Rollin' Hornet Season Schedule
October 20-22, 2017-Sportable Regional Qualifier-Richmond, VA
November 4-5, 2017 Winter Classic-Charlotte, NC
January 27-28, 2018 Big Peach Slam Jam-Alpharetta, GA
Feb 2018, Smithfield, NC Hog Wild Tournament 
March 3-4, 2018 Birmingham, AL-Conference Finals
 April 11-15, 2018  NWBA National Tournament, Louisville, KY
Details

Written by

Cloud Control Panel

Category: Uncategorised
Hits: 2350
 2017-18 Division III Roster
     Name    


   Classification   


      Years Played   


Donnie Langford
3
35+
Matthew Matysek
1
5
Elizabeth Becker
1
7
Candice Law
3.5
1
 
Greg McKee
Novice
1
 
Marcus Tuck
Novice
0
 
Ike Cunningham
3.5
30
 
Jose Melendez
2
3
 
Kristain Champion
1
6
 
Nate Bias
4.5
2
 
Breanna Gates
1
7
 
Rochelle Benton
3
2
 
Isaiah Scruggs
1
1
Xavier Crockett
2
1
2017-18 Division III Schedule
November 11  Physical Therapy Department
Wingate University
December 7 Spartanburg Pistons
Away
January 13-14 Lakeshore Tournament
Birmingham, AL
January 20 Triad Trackers

Winston Salem, NC
February 3 RCRC Lightening
Columbia, SC
February 17 Orlando Tournament

Orlando, FL
March 3-4 National Wheelcats Tournament

Nashville, TM
March 10-11 CWBC Conference Tournament
Away
 April 11-15 NWBA National Tournament

Louisville, KY
Details

Written by

Rollin Hornets

Category: Uncategorised
Hits: 3384
About the Rollin' Hornets
Our Mission
The mission of the Rollin' Hornets is to promote indepen-
dence for both children and adults with physical disabilities
and provide opportunities to pursue active, healthy life-
styles in adaptive sports.
Who are the Rollin

Hornets

?
The Charlotte Rollin' Hornets is a Wheelchair Basketball
program which gives individuals with physical disabilities
an opportunity to be part of a team, learn about life and
basketball and know that a physical disability does not have
to mean they are disabled from doing what they want.

The Rollin' Hornets consist of two junior and one adult wheelchair
basketball teams that compete within the National Wheelchair
Basketball Association (NWBA). Teams play in tournaments across
the country in a season that lasts from October to April.
Primary Support
Abilities Unlimited of the Carolinas, Inc. (AUCarolinas) is the pri-
mary support organization meeting the funding needs of the
Rollin' Hornets. AUCarolinas, a 501(c)(3) non-profit organization,
was formed in June 2005 by three fathers with physically disabled
children in the greater Charlotte area. AUCarolinas also provides
wheelchair track & field, swimming, adaptive golf, and wheelchair
softball in addition to wheelchair basketball programs.
History
In 1948 Dr. Tim Nugent organized the National Wheelchair Basket-
ball Association. The sport was introduced in VA hospitals for injured
veterans returning from WWII. Charlotte's history began with the
Carolina Tarwheels in 1970. During the 80's the team added more
players and formed another team called the Carolina Cyclones.

To reflect NBA ties, in 1990 the program became the Charlotte
Wheelchair Hornets who later captured their first National Cham-
pionship in 1996. Charlotte dominated in 1998 with National
Championships in Division II, Division III, and the Junior Division. In
1999 Division III added a back-to-back title. Welcoming its newest
NBA family member in 2003, the Charlotte Bobcats, and reflecting
their support, the team was renamed the Charlotte Rollin' Bobcats.
Now that the Charlotte Bobcats have changed back to the Charlotte
Hornets, we have joined them in changing our name to the Charlotte
Rollin' Hornets.
National Success
The Rollin' Hornets continue to have national success and con-
sistently finish the season ranked within the top ten. The Junior
Rollin' Hornets have had members on the Academic All-American
Team 13 different times.

In 2008 the Junior's JV team finished in 2nd place at the National
Tournament only to return the next year and win the 2009
National Championship.

The Rollin' Hornets have recently sent thirteen athletes to college
on basketball scholarships and two went to college on track
scholarships.


When and Where do the Rollin'

Hornets

Roll?
Throughout the regular basketball season, the Rollin' Hornets
often provide half-time entertainment at many of the NBA
Charlotte Hornets home games, as well as regional universities
such as UNC Chapel Hill and UNC Charlotte's home basketball
games.

Each year the Rollin' Hornets send a team representative to
participate in the NWBA All-Star Wheelchair Classic as part of
the NBA's All-Star Weekend.
The Rollin' Hornets Golf Classic is an annual event and the pro-
gram's primary fundraiser. Held at the beautiful Verdict Ridge
Golf and Country Club in Denver, NC, the tournament offers a day
of exciting golf, contests and prizes. It's a great way to support a
worthy cause!
Details

Written by

Cloud Control Panel

Category: Uncategorised
Hits: 2522
| | | |
| --- | --- | --- |
|         Name      |   Classification  |      Years Played   |
| Tim Caldwell | 1.0 | 13 |
| Richard Travis | 1.0 | 16 |
| Bradley Mungo | 4.5 | 15 |
| David Wilkes | 4.0 | 18 |
| Tony Patton | 2.5 | 20 |
| Mike Hudson | 4.0 | 20 |
| Felix Penn | 3.0 | 18 |
| Pete Morgan | 4.5 | 6 |
| Steve Lister | 2.5 | 10 |
| Eric Penninger | 4.0 | 5 |
| Tim Caldwell | Coach | N/A |
| Donnie Langford | Coach | N/A |
| Marsha Hudson | Coach | N/A |
2017-18 Division II Schedule
October 9 Rollin Hornets Golf Classic 
Victor Ridge Denver, NC
October 20-22 Preseason NIT Tournament 
Richmond, VA
November 11 Wingate Physical Therapy Program Event
Wingate University
December 1-3  Charlottesville Tournament
Charlottesville, VA
January 12-14 Pioneer Classic
Birmingham, AL
February NRH Tournament
Oxen Hill, MD
March Home Tournament
Charlotte, NC
April 11-15 NWBA National Tournament
Louisville, KY
Details

Written by

Rollin Hornets

Category: Uncategorised
Hits: 8080
The Rollin' Hornets Golf Classic is an annual event and the program's primary fundraiser. Proceeds go to help pay for the many travel and equipment expenses incurred throughout the season.
Held at the beautiful Verdict Ridge Golf and Country Club in Denver, NC, the tournament offers a day of exciting golf, contests and prizes. This year's tournament will take place on Monday, October 9, 2017. It's a great way to support a worthy cause! Check out some of the perks of becoming a participant:
Entry fee of $125 includes your green fees, a boxed lunch, goody bag (valued $30-$50), Rollin' Hornets t shirt, ticket to the award banquet with, free chair massage, a raffle ticket and a chance to win tons of great raffle prizes!
Prizes will be awarded for first, second, and third place winning teams as well as all of the contests including the long drive, closest to pin, one-armed long drive and one-armed approach shot.
A chance to win $30k with a hole-in-one on hole #2. A chance to win a prize such as a set of clubs, free air fare for two anywhere in the continental US or a big screen tv with a hole-in-one on all other par 3s.
Each player will have the opportunity to compete in the putting contest and the chance to attempt a 60 foot putt for $5,000!
Chance to meet some of the NBA Hornets organization, including current and former players, coaching staff and the Honey Bees.
Please consider helping us by participating, volunteering or purchasing a sponsorship package. Sponsorships start at just $50 - visit our Partnership page for more information!
You are here:  

Uncategorised